Make 2016 Your Best Business Year Ever
18:30
Domus Cordis Center Wisma Argo Manunggal (sebelah Hotel Kartika Chandra) Lt. Basement, Jl. Jend. Gatot Subroto Kav. 22, Jak Sel
-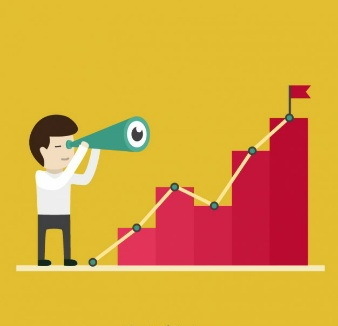 Make 2016 Your Best Business Year Ever
The Goal Setting Strategy that will Revolutionize Your Business and Life

Apakah ada Target Bisnis yang Anda tetapkan di tahun 2015 yang belum tercapai? Apakah target ini penting bagi Anda? 
Bagaimana Anda bisa memastikan akan mencapainya di tahun 2016?
Kesuksesan dalam bisnis, kesehatan, hubungan dan kepuasan di tahun 2016, semuanya tergantung dari tindakan-tindakan yang Anda lakukan mulai dari saat ini. Mengetahui langkah-langkah bisnis apa yang perlu diambil - terutama dalam masa-masa ketidakpastian ini - berasal dari kejelasan akan impian dan target bisnis yang telah Anda susun. 

With Bp. 
TONY
SARDJONO
Owner & Director (TSA
Tony Sardjono and Associate)
Former
Director of Business Development 

at Business Dynamics

Director of Training and Development 

at

 

Sheraton Resorts Bali
Director of Human Resources 

at

 

Sheraton Laguna Bali
akan membagikan 
pengalaman dan pengetahuannya selama lebih dari 18 tahun
 menyusun strategi-strategi pencapaian target bisnis yang telah terbukti keberhasilannya dengan membangun bisnis yang sangat sukses di bidang Training, Development dan Consulting yang menangani berbagai klien dari perusahaan-perusahaan multi nasional seperti Accor Group, Ascott International, 
Boehringer Ingelheim - Jakarta, PT. Summarecon Agung, PT Astra Daihatsu Motor, dan lain-lain.
* Anda bisa menjalin 
network 
bisnis dg rekan-rekan profesional & pengusaha muda Kristiani lainnya.
Waktu : Jumat, 12 Februari 2016 (Pk.
18.30 - 21.30)
Tempat : 
Domus Cordis Center 
Wisma
Argo
 Manunggal (sebelah Hotel Kartika Chandra) Lt. Basement, 
Jl. Jend. Gatot Subroto Kav. 22, Jak Sel
Informasi dan registrasi:
Leo - 
0813 9880 5338
David - 
0815 8870 768
Investasi: Kontribusi sukarela
NB: Bawa kartu nama & materi promosi produk/jasa Anda.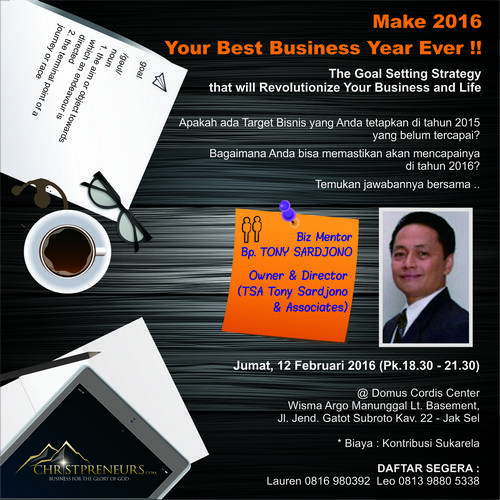 Organized by
CHRISTPRENEURS.COM

(KKMK KAJ - Sinar Foundation - Perkantas)
Supported by
Pukat KAJ - KomKep KWI - Entrepreneur Muda GKJ - Domus Cordis
"Business for the Glory of GOD"
"
Mr. Tony Sardjono is a very professional trainer and he is one of the guru in the hotel industry particularly for the service excellence. I joined one of his training and it gave a big impact to my motivation and built my confidence. I would highly recommend his training program for any service industry."
"
Very seldom we have the opportunity to meet the best profile of Professional Development Consultant person such as Mr. Tony Sardjono. he has it all, energy, focus, approach, leadership & extensive management expertise program in hospitality world wide companies. I can only say that I am proud to be one of his student and wishing him the best for career & future."