Young Christian Entrepreneurs Development Program
 YOUNG CHRISTIAN ENTREPRENEURS DEVELOPMENT PROGRAM

Bootcamp I (9-10 March '13) + 6-Month Small Groups Mentoring + Bootcamp II (29 June '13)
Apakah Anda ingin membangun bisnis impian Anda sekarang ? atau
Anda ingin mengembangkan bisnis Anda menjadi lebih besar dan profitable ?
Dalam Program ini, Anda akan dibimbing oleh Tim Mentor Pengusaha-Pengusaha yang telah sukses dan berpengalaman.  Anda akan belajar bagaimana:
Mengembangkan Leadership and Management Skills untuk memimpin & mengelola perusahaan secara efektif.

Memetakan bisnis Anda, mengidentifikasi peluang serta persaingan yang ada untuk menyusun suatu 

strategi bisnis yang  handal dan akurat.

Merancang strategi sales and marketing  yang inovatif  untuk 

melipatgandakan profit bisnis Anda.

Proses membangun, mengembangkan dan membiayai usaha Anda dengan strategi dan sistem manajemen keuangan yang efisien.

Merekrut dan memimpin

 tim bisnis yang solid dan profesional

, mengembangkan sistem operasional yang efektif sehingga 

bisnis Anda berkembang dengan sistem.

Mengerti hukum bisnis dan perpajakan yang penting untuk kelancaran bisnis Anda.

Dan masih banyak lagi ..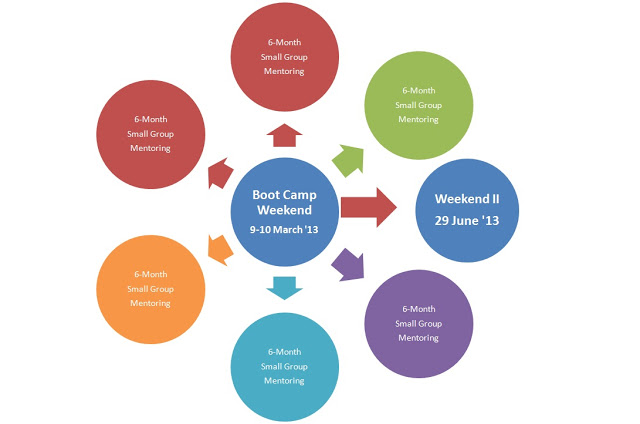 TIM MENTOR:Bp. EDDY SUTRISNO
Founder & CEO, PT IMESCO DITO
(Top building designer & contractor for luxury house, property developer with more than 30 years of experience)
Owner, 100 Sunset Hotel 1 & 2, Kuta - Bali
http://www.imescodito.co.id/
Bp. FERRY WIDAGDA ATMADI
Executive Director, MDI TACK Training International
Distinguished Faculty Member of Prasetiya Mulya Business School
http://www.mditack.co.id

Bp. HANDOKO RIMBAWAN
Chairman, PT Nusantara Compnet Integrator (COMPNET)
Bp. JUSWANTO PRANANTO
Owner & Director, PT Primaco Unitama
Former Vice President, PT Primafood (a Charoen Pokphand Group)
Former Senior Marketing Director, PT Indofood Sukses Makmur Tbk
Bp. HIDAYAT TJOKRODJOJO
President Director, Realta Chakradarma
President Director, PT Bisnis Sistem Indonesia 
http://www.realta.co.id

Bp. AGUS SUHERMAN
(Founder & CEO of Construction & Mining Companies)
Bp. PAUL BUDIMAN (ALEX) SOERJADI
Owner, Jakarta Photography Centre (JPC Kemang)

Bp. ALI GITA
Founder, theLuxe Indonesia (Travel in luxury & style)
Founder, PT Kharisma Lintas Benua (Calyba Tour)

Bp. HANDY PARDJOKO
Founder & Managing Director, PT Grable Indonesia
Founder & Managing Director, Ohama Indonesia
Vice President, Menara Kadin Indonesia Group
Commissioner, PEAC MONAS
PEAC MONAS is initiated by two respected world-class organizations: IFC PENSA (the World Bank Group) and SWISSCONTACT (Swiss Foundation for Technical Assistance) to promote Small and Medium Enterprise access to credit.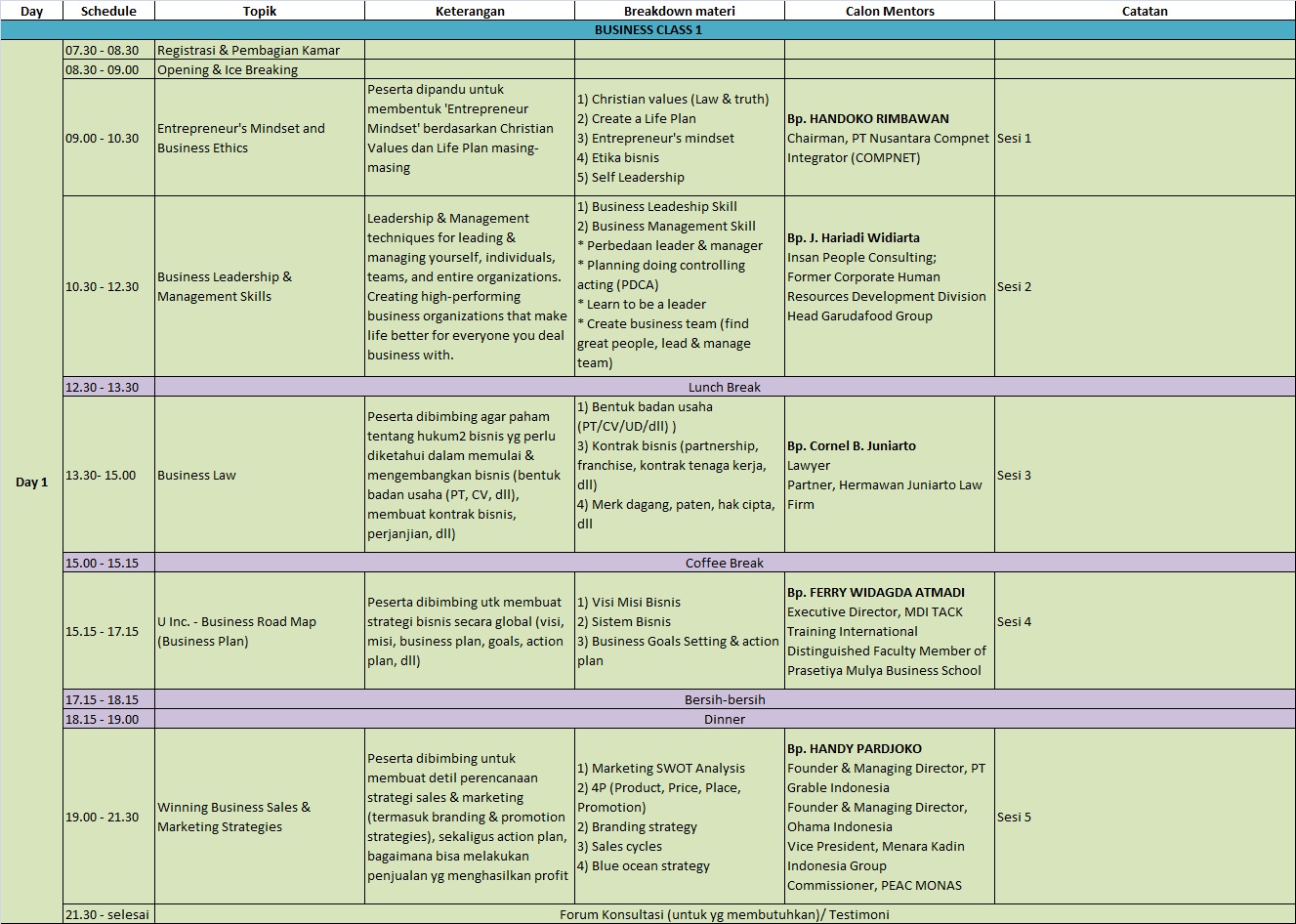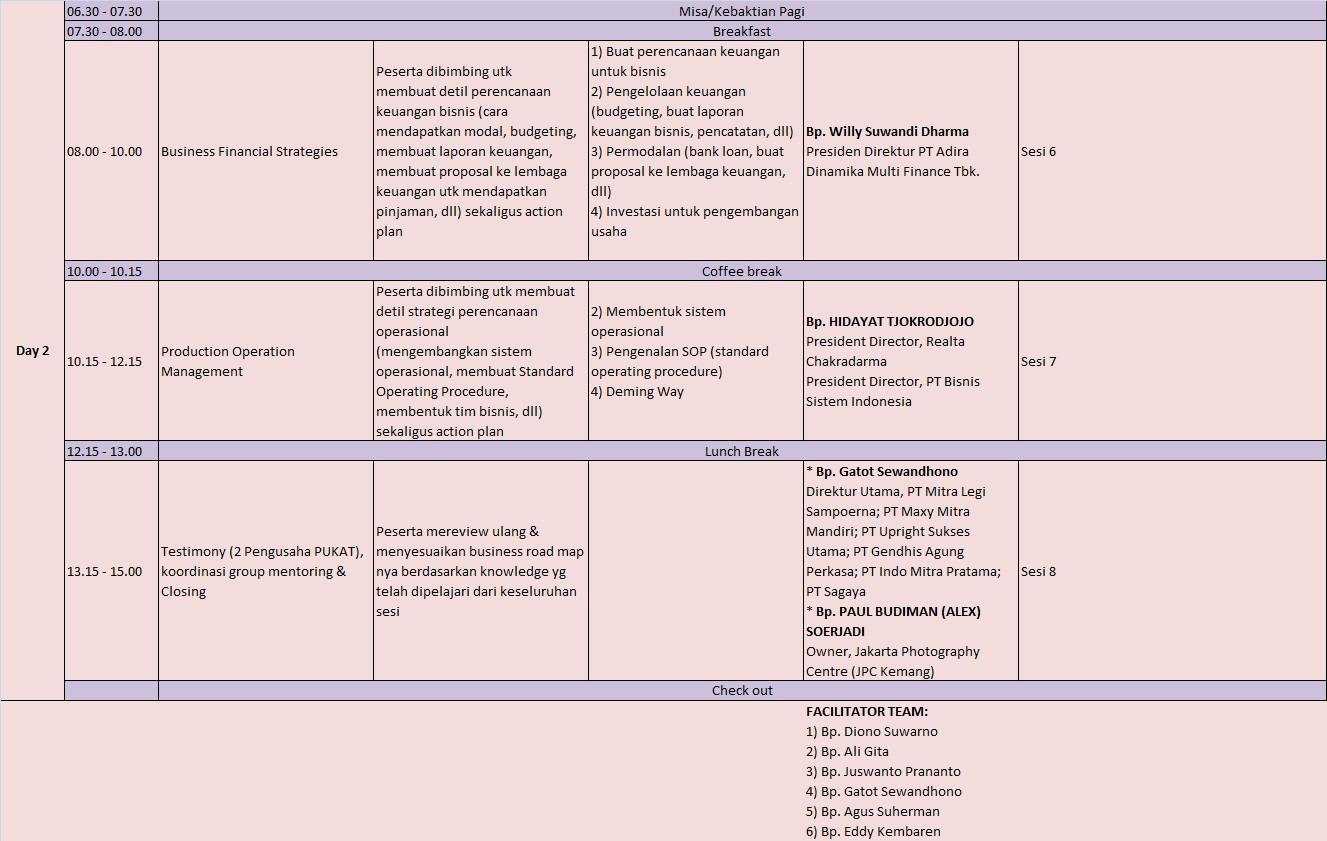 Tempat
Wisma Samadi
Jl. Dermaga 6, Klender
Duren Sawit - Jakarta Timur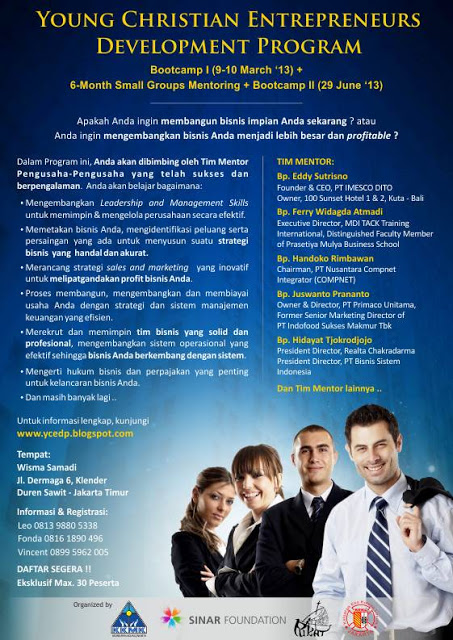 Organized by

:
KKMK KAJ
Sinar FoundationPukat KAJ
KEKL