Info Acara
How to Make 2018 Your BEST Business Year Ever !! 
Bayangkan bisnis Anda berkembang seperti yg selalu Anda inginkan. Seberapa jauh kondisi bisnis Anda hari ini dari Visi Anda tersebut? Apakah sudah dekat atau masih sangat jauh?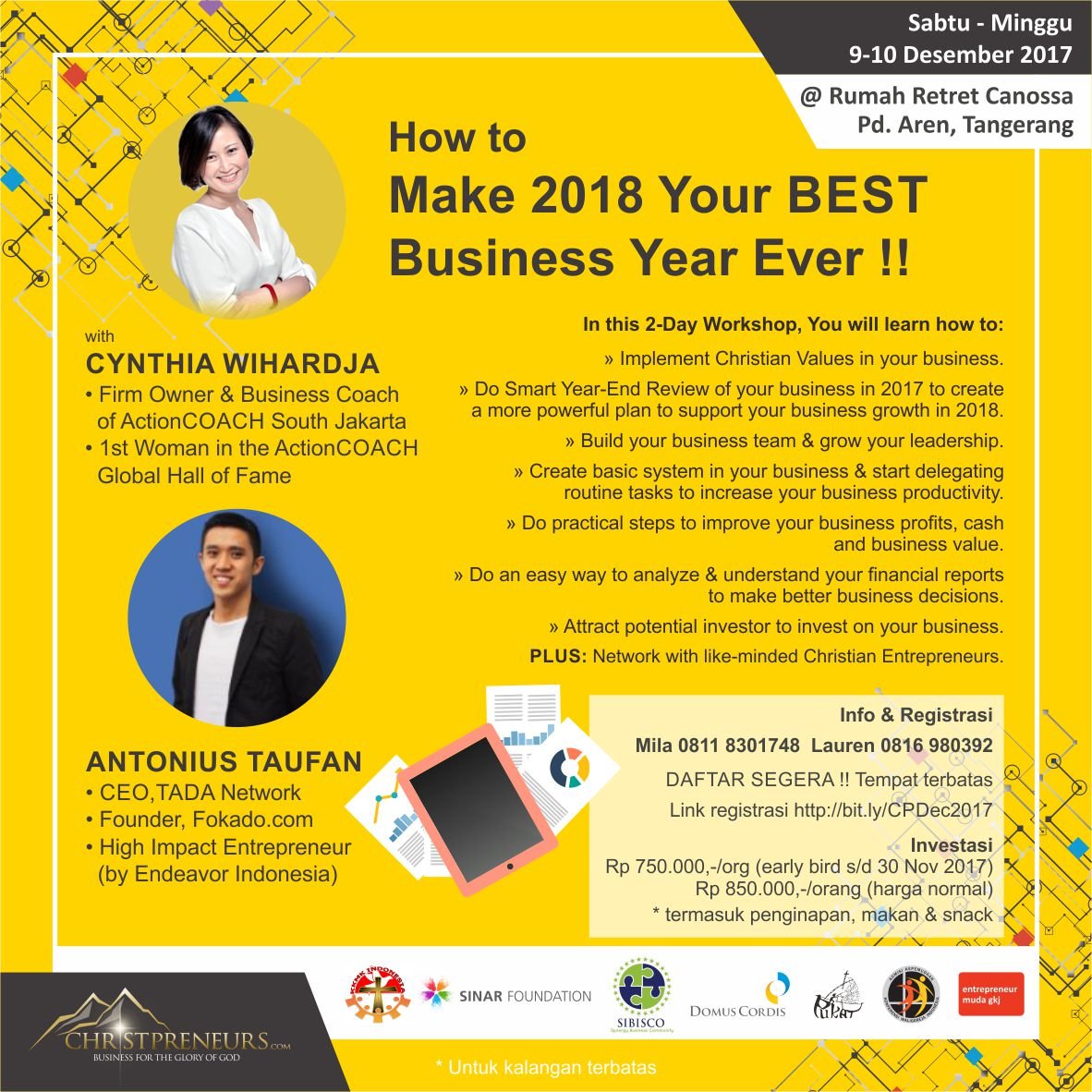 Dalam Workshop 2 hari ini, Anda akan belajar bagaimana:
• Mengimplementasikan  Nilai-Nilai Kristiani dalam bisnis Anda.
• Melakukan Smart Year-End Business Reviewterhadap kinerja bisnis Anda di tahun 2017 & membuat perencanaan yg lebih unggul untuk mendukung pertumbuhan bisnis Anda di tahun 2018.
• Membangun Tim Bisnis & mengembangkan Kepemimpinan Anda.
• Menciptakan basic system & mulai mendelegasikan tugas-tugas rutin untuk meningkatkan produktivitas bisnis Anda.
• Langkah-langkah praktis untuk meningkatkan profit, cash flow & value dari bisnis Anda.
• Cara mudah untuk menganalisa laporan keuangan bisnis untuk membuat keputusan bisnis yang lebih baik. 
• Cara efektif untuk menarik Investor berinvestasi dalam bisnis Anda.
Plus: Network with like-minded Christian Entrepreneurs & Business Leaders
Anda akan dibimbing oleh 2 Business Coach terbaik :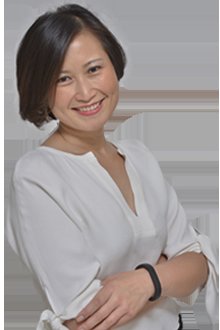 CYNTHIA WIHARDJA
• Firm owner & Business Coach of ActionCOACH South Jakarta
• 1st Woman in the ActionCOACH Global Hall of Fame
Coach Cynthia telah berkecimpung dalam bidang sales dan sales management sejak tahun 1997 yang menghasilkan turnaround projects untuk bisnis produk dan jasa di Singapura dan Indonesia. Dia membimbing pemilik bisnis dan pemimpin penjualan untuk menerapkan proses praktis untuk meningkatkan kinerja. Dia telah berbicara di 14 negara. Dia telah melatih pengusaha, pemimpin dan pelatih untuk mendapatkan hasil bisnis yang lebih baik sejak 2007.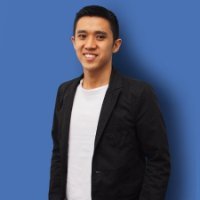 ANTONIUS TAUFAN
• CEO, TADA Network
• Founder, Fokado.com
• High Impact Entrepreneur (by Endeavor Indonesia)
Experience a successful business year unlike any you've known before!

Kapan dan di mana?
Sabtu - Minggu, 9 - 10 Des 2017 (Registrasi ulang Pk. 09.00)
Lokasi Acara:
Gang Bakhita, Jl. Utama 1, Pondok Karya, Bintaro, Tangerang 
Investasi:
- Rp 750rb/orang (Early bird s/d 30 Nov 2017)
- Rp 850rb/orang (Harga normal)
* Sudah termasuk biaya penginapan, makan & snack selama acara berlangsung
Transfer ke: BCA 5455 602 995 an. David Juliasam Lai / Irene Saptatri 
TEMPAT TERBATAS, DAFTAR SEGERA ! 
Info & Registrasi:
Organized & supported by  
CHRISTPRENEURS.com 
(KKMK – SIBISCO – Sinar Foundation – PUKAT KAJ - Domus Cordis - KomKep KWI – EM GKJ)
Jadwal Acara
Sabtu, 9 Desember 2017
Pk. 09.00 - 09.30 Registrasi ulang, pembagian kamar, check in, snacking
Pk. 09.00 - 09.15 Perkenalan singkat peserta
Pk. 09.15 - 09.45 Introduction, How do we make community impact, Objectives of the program
Pk. 09.45 - 10.15 Looking back of our business performance in 2017 (Best lessons, Biggest Challenge, Biggest wins)
Pk. 10.15 - 12.15 Basic business finance (the 3 basic reports & how to analyze them, How to find more profits & cash, How to set up your financial systems, How to money from investors)
Pk. 12.15 - 13.00 Makan siang
Pk. 13.00 - 15.00 How to grow revenues profits (5 Ways to boost profits, 4 Ms that affect profit, Challenges in growing revenue for the first years)
Pk. 15.00 - 15.15 Break
Pk. 15.15 - 17.15 Growing your first team (Growing myself from self-employed to leader, Who do I recruit? How to recruit?, 6 Keys to a Winning Team)
Pk. 17.15 - 18.00 Istirahat & bersih2
Pk. 18.00 - 19.00 Makan malam
Pk. 19.00 - 21.00 Leverage game 
(the game of business) 
tournament 
Pk. 21.00 Foto bersama, acara bebas & istirahat
Pk. 07.00 - 08.00 Kebaktian bersama
Pk. 08.00 - 08.30 Makan pagi
Pk. 08.30 - 10.00 Setting goals & planning for 2018 (
Clarifying your goals, setting SMART goals, Steps to achieving the goals, Executing week on week)
Pk. 10.15 - 11.15 Setting up basic systems (How I got rid of my routine tasks and started delegating, How to set up basic systems in my company, 4 Foundations of a business)
Pk. 11.15 - 12.00 Q & A, konsultasi bebas dengan nara sumber
Pk. 12.00 Makan siang & Sayonara